A Message from the President
Fujiya Milk Product Co., Ltd. has helped to make people's life healthy through "Safe and Secure Dairy products" since 1962.
In recent years, people's interest in "Reliability and Safety on Foods" and "Health" has been increasing. Under such circumstances, our company was approved the Hazard Analysis Critical Control Points, or HACCP, for milk by the Ministry of Health, Labor and Welfare on June 27 in 2002.
We will continue to conduct further research and provide fresh dairy products in order to contribute to the healthy diet for our customers.
Kazuya Chiba
Representative Director and President
Company profile
| | |
| --- | --- |
| Company name | Fujiya milk product co., Ltd |
| Business | Manufacturing and selling of milk and dairy products |
| Established | August 10,1962 |
| Address | 27 Numata Surisawa Daito-cho Ichinoseki-shi Iwate 029-0523, Japan |
| Web site | http://www.fujiya-m.jp/ |
| Capital | 64.3 million yen |
| Major shareholder | Fujiya co., Ltd. (83. 3%) |
| Fiscal year | January 1 to December 31 |
| Annual sales | 1,948.9 million yen in 2018 |
| Number of Employees | 49 |
Location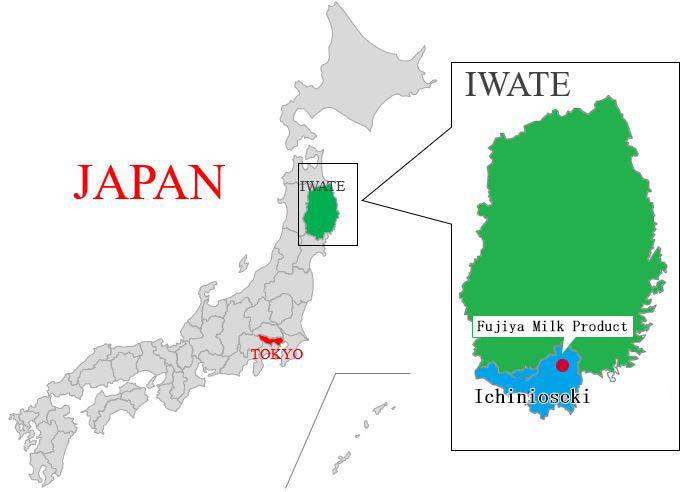 History
1962
Fuji Nousan Kougyou Co.,Ltd. established as a joint venture corporation of Fujiya co., Ltd. and Daito-Cho.
1964
The 1st phase of construction of the one-storied reinforced  concrete cooler station(120㎡) completed.
1967
We, approved as a milk processing facilitiy, started to provide elementary and junior high schools in some ereas of Senmaya-Cho and Daito-Cho with milk for school lunch.
The 2nd phase of construction of the one-storied steel -frame factory, a boiler room and warehouse,( total 1000㎡) completed.
We started a full-scale operation of dairy products.
1977
A Management Building ( 200㎡ )  completed.
1989
Fuji Nousan Kougyou Co.,Ltd. changed its name to Fujiya Milk Product Co., Ltd.
The 3rd phase of construction of the second plant ,including a factory, a warehouse, a freezer unit and a blower room (total1600㎡)  completed.
2001
Capital increased to 64.3 million yen.
2002
We acquired the HACCP approval for milk from Ministry of Health, Labor and Welfare.
Renovation of the first plant was completed. We attracted the Iwai cold center.
2005
A sewage treatment facility built. The cream line equipped in the first plant.
2012
A ceremony of the 50th anniversary of the foundation celebrated.
About our milk and dairy products
Our company in Ichinoseki-shi, Iwate pref. is located in the south of the Kitakami Highlands in the north to south on the east side of the Tohoku region in Japan. The Kitakami Highlands are rich in nature and have a cool climate. That is good for the dairy industry
One of the features of our factory is that a cooler station is attached to the factory site. A cooler station is a facility for collecting and temporarily storing raw milk which is milked by each dairy farmer. The raw milk collected twice a day from about 120 dairy farmers in Ichinoseki and Hiraizumi area is temporarily stored at this cooler station. Our factory is connected to this cooler station by pipeline.
Therefore we can use fresh raw milk every day.
Processing this high quality raw milk from healthy cows nurtured in the rich pasture, we will bring tasty milk and dairy products for our customer.
The main flow of products